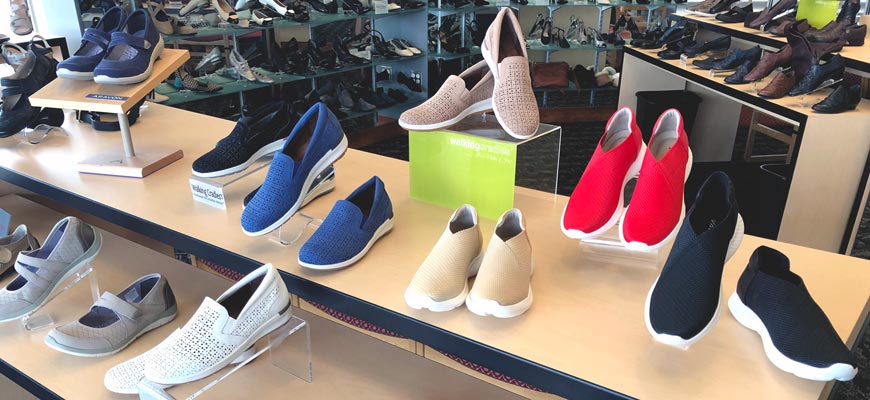 How To Find The Width Of Your Shoe
Finding shoes that fit properly involves identifying the right length and width. It's usually quite easy to find shoes based on length, but knowing what shoe width you need will ensure shoes that are comfortable.
There are quite a few measurement systems used around the world. However, it is not necessary to be familiar with the different systems, as long as you understand the basics of how to determine your shoe width.
Measuring the Width of Your Feet
In order to find your ideal shoe width, measure the widest point of your feet. Place a ruler or measuring tape at the ball of your foot, which is right at the bottom portion of your toes. It may be easier to trace your feet with pencil and paper and measure the drawing.
Common Shoe Width Ranges
For the most part, shoe manufacturers use letters to indicate shoe widths (A thorugh E). Unfortunately, because there are no shoe size regulations enforced, these width ranges will sometimes vary with each manufacturer.
Shoes that fall within the A range are typically narrow. The lower the letter, the narrower the shoe, thus E is a wide width. The B width in women's and the D width in men's are typically the medium width.
Shoe Materials Matter
In addition to finding shoes that are the right size, the materials in which they are made affects the level of comfort as well as how long they last. Shoes are available in synthetic materials as well as leather, but because leather is natural, it will conform to the shape and size of your feet, unlike manmade materials.
Don't compromise your health and comfort with shoes that don't fit!
Along with the pliability of leather, it is quite durable and while quality leather shoes usually require a somewhat larger upfront investment, there is no comparison to the comfort and long wear that is derived.
Finding Shoes that Fit Correctly
When you wear shoes that fit correctly, you will notice how they essentially mold to your feet. Shoes that are too short or narrow tend to cause your toes and feet to feel constricted. If you notice the shoes are moving up and down on your ankle, it is an indication that they are too long or wide. These issues will cause shoes to wear out faster and you will likely notice . Finally, more and more shoe manufacturers are offering stylish shoes in multiple widths, so don't compromise your health and comfort.
VanHoecks Footwear specializes in shoes in extended widths and sizes for men and women. Visit our store today or call us at 616.226.2600 for any of your shoe shopping needs. We look forward to serving you!