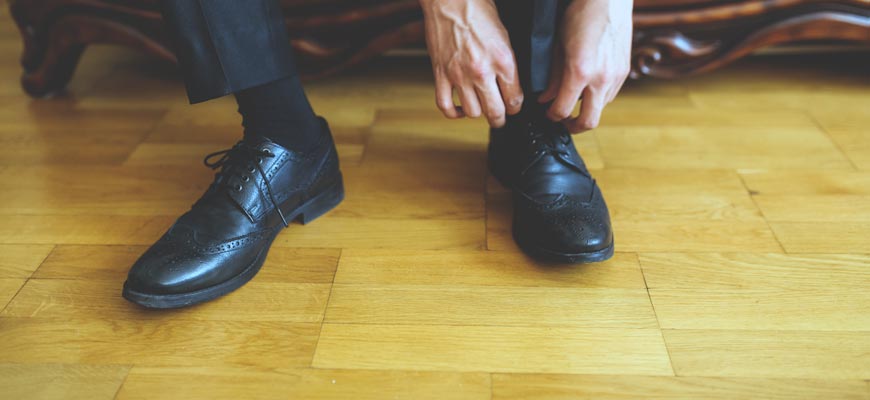 No two feet are alike. And, no, we are not talking here about different people with different foot lengths and widths. Even when it comes to the same person, there are often small differences between their feet. In fact, about 60% of the population has different sized feet, according to one study. Most people have one foot that's both larger and wider than the other and need to wear different shoe sizes for each foot. Unfortunately, most of us opt for one shoe size or the other and purchase footwear that doesn't fit properly. In this article, we'll tell you how to buy shoes if your feet are different sizes and how the incorrect size can affect your health.
Health Concerns When Wearing Wrong Sized Shoes
Having one foot larger than the other doesn't cause any issues in and of itself. The problems arise when you try to fit your foot in shoes that aren't the correct size (and we're talking here both about footwear that is too tight or too loose.)
Shoes that are too tight can cause deformities like
, which is a protrusion on the outside of the ball of the foot. Metatarsalgia, or pain in the ball of your foot, is another serious condition that can occur if your shoes are not the correct size. Then, there's also swelling and irritation where the shoe is too snug or too loose.
How to Buy Shoes If Your Feet Are Two Different Sizes
Unfortunately, not all stores or brands offer shoes for different sized feet. You could purchase custom-made shoes from several brands, the cost is often exorbitant. However, that doesn't mean that you should just give up and look for a compromise.
Most people have one foot that's both larger and wider than the other and need to wear different shoe sizes for each!
First, if you suspect that you have different sized feet, then measure them carefully at home. Place a piece of paper on the floor, step on it with one of your right foot and trace around it with a pen. Make sure to wear socks as well. Use a measuring tape to measure the length from the back of the heel to the longest toe. Then wrap your foot around the widest part, at your bunion joints.
Repeat the procedure with the left foot.
Use a women's or men's sizing chart to determine the exact size of your feet. Use these measurements when shopping for shoes to ensure you get the correct fit.
VanHoecks Footwear Can Help You Find the Right Shoe Size
If you think that you are not wearing the correct shoe size, then head to VanHoecks Footwear and we can help you find the perfect fitting shoe. We carry a great selection of both men's and women's shoes and can help you find footwear that is not only stylish but comfortable too. We also carry an impressive collection of extended sizes and extended widths. So, whatever your needs or shoe size, you can probably find it here. Contact us here and schedule a custom fitting now!